Container Services
We are the Aegean region's largest container terminal, with a handling capacity of 1.5 million TEUs per year. Our port provides handling and storage services for container loads involved in import, export, transit trade, container unpacking and securing, and lock installation and removal.
In addition, we offer a service to connect refrigerated containers to electricity, supervised by authorized personnel. We possess the region's highest refrigerated container capacity, with 830 sockets.
Our operations are conducted with 3 STS (ship-to-shore) cranes and 10 electric RTG (Rubber Tyred Gantry) stacker cranes that feature eco-friendly characteristics and efficiently serve new generation ships at the container dock. We also have other equipment, such as RS (Reach Stacker), EH (Empty Handler), TT (Terminal Truck), and various forklifts, available for use when needed.
We continue our container loading and unloading operations seamlessly on our 700-meter-long single-piece dock.
Project Cargo Services
Our general cargo dock, which has a length of 150 meters, has fulfilled numerous project cargo demands and can cater to ships weighing up to 15,000 DWT.
In our wholly concrete, specially designed, and reinforced area for project cargo, we can handle loads of up to 1,200 tons in a single piece. We ensure the safe handling of many loads, including wind energy loads (blades/towers and assemblies), construction equipment, crane assemblies, transformers, boats/yachts, palletized loads, rolled/packaged sheets, power plant parts, and equipment, as well as heavy equipment, and provide clean, safe, and spacious storage areas.
CFS and Warehouse Services
Our 42-hectare area ensures the safe storage of all cargo types with strict security measures.
While the majority of our port area is open storage space, we also have a dedicated enclosed area for partial container loads, offering services such as warehouse unloading, delivery, inspection, weighing, and palletizing. Our closed warehouse is equipped with a shelf system designed for occupational safety and allows for systematic storage. Additionally, it is constantly monitored with a camera system. We are currently working on increasing our warehouse capacity and building a new warehouse by 2023.
At our CFS, we offer a range of services that include storage, weighing, stuffing, stripping, inspection, complete surveys, X-Ray, sampling, sealing, and breaking of seals, container sweeping, container condition checks, dangerous container labeling, and removal of labels, tarping and untarping, and container monitoring services.
Furthermore, we provide stuffing and stripping services for open cargo, cargo requiring slings or ramps, and containerized cargoes such as crates, bundles, blocks of marble, and big bags. We also offer block marble storage services and ensure speedy and effective handling of all requests.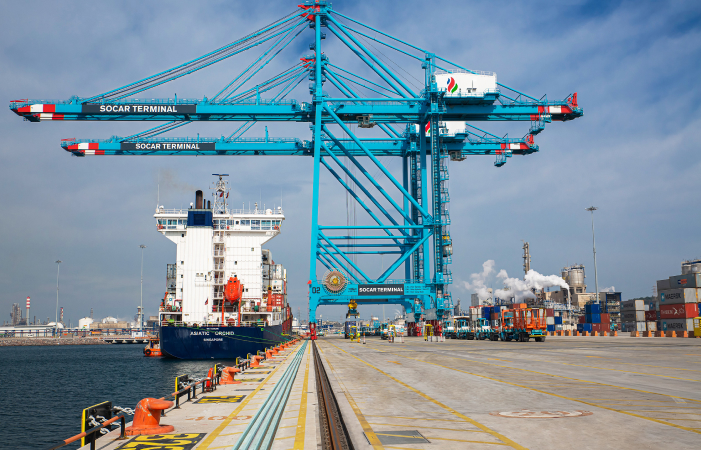 Service
Lines
Rotation

SLC Aegean / NET / EMX

Sealand, Hamburg Sud, Diamond Line, COSCO, OOCL, Hapag-Lloyd, Borchard, Turkon

Felixstowe, Hamburg, Bremerhaven, Antwerp, Piraeus, Gebze, Ambarlı, Gemlik, SOCAR Terminal, Valencia, Felixstowe

Port Said East-Izmir

Sealand, Maersk Line, Hamburg Sud

Port Said, SOCAR Terminal, Port Said

SEM

Sealand, Arkas Line, DAL, Tarros, Hamburg Sud, CMA CGM

Tangier, Algeciras, Valencia, Barcelona, Genoa, Alexandria, Beirut, Lattakia, Iskenderun, Mersin, SOCAR Terminal

Akkon Libya x 2

(LS) & (TL)

Akkon

SOCAR Terminal, Gemlik, Evyap, Mardas, Misurata, Al Khoms, Sousse, Tripoli, Benghazi, Mersin

Akkon West Mediterranean (WM)

Akkon

SOCAR Terminal, Gemlik, Evyap, Mardas, Annaba, Algiers, Barcelona, Castellon, Valencia, Algiers, Genoa, Salerno, Misurata

Akkon Bizerte (BIS)

Akkon

SOCAR Terminal, Gemlik, Evyap, Bizerte

Akkon Israel (IS)

Akkon

Ambarlı, Yarımca, Gemlik, SOCAR Terminal, İskenderun, Ashdod, Ambarlı

Akkon Italy – Casablanca (TIC)

Akkon

Gemlik, Gebze, Ambarlı, SOCAR Terminal, Salerno, Genoa, Casablanca

Akkon Far East (FE)

Akkon

Taicang, Ningbo, Shenzhen, Mersin, SOCAR Terminal, Gebze, Ambarlı

EBX

Admiral

Ashdod, SOCAR Terminal, Yarımca, Ambarlı, Novorossiysk, Odessa, Mersin

TIES

Turkon, Admiral

Kumport, Evyap, Gemlik, SOCAR Terminal, Mersin, Haifa, Ashdod, Gazimagusa

TST

Admiral, Medkon

Ambarlı, Gebze, Gemlik, SOCAR Terminal, Valencia, Barcelona, Sfax, Rades